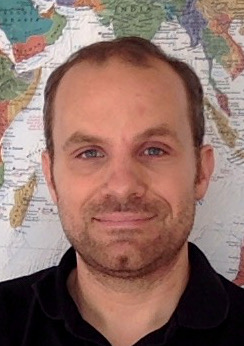 Johannes Textor
Assistant Professor (tenure-track)
Tumor Immunology,
Radboud University Medical Center,
Nijmegen, The Netherlands

Guest Researcher
Institute for Computing and Information Sciences
Radboud University,
Nijmegen, The Netherlands

Visiting Associate Professor
Leeds Institute for Data Analytics
University of Leeds, UK

contact | research | publications | software | dissertation | awards
Contact Information
RIMLS
278 Tumor Immunology
Geert Grooteplein 26-28
6525 GA Nijmegen
The Netherlands

mail: johannes.textor }at{ radboudumc.nl
or: johannes.textor }at{ gmx.de
Research
I lead the Computational Immunology group at the department of Tumor Immunology at the Radboud Institute for Molecular Life Sciences.
I develop and apply computational models and statistical methods for biomedical research. My two main fields of interest are Computational Immunology, that is, applying tools and methods of math and computer science to immunological questions, and Artificial Immune Systems, i.e., applying immunological principles and paradigms to problems in computer science and engineering. Moreover, I work on algorithmic and methodological aspects of Causality Theory, focusing in particular on applications in Epidemiology.
Publications
Show: complete list | selected publications
Author order is highlighted where it is meaningful (e.g. it is not meaningful in theoretical computer science, but it is in computational biology). If two or more authors are highlighted, this means they contributed equally.
PhD Dissertation
My PhD thesis was carried out at the Institute of Theoretical Computer Science, University of Luebeck, Germany, under joint supervision of Rüdiger Reischuk (Theoretical Computer Science) and Jürgen Westermann (Immunology).
Johannes Textor:
Search and Learning in the Immune System: Models of Immune Surveillance and Negative Selection.
PhD Dissertation, University of Luebeck, 2011.


Download PDF
Software
Some software I wrote for my research is available for download:
Awards
The IBM Best Student Paper Award 2014 went to the first author, Benito van der Zander, of our paper "Constructing Separators and Adjustment Sets in Ancestral Graphs" at UAI 2014.
Stephan Weiland Preis 2012 — young investigator's award by the German society for epidemiology for my work on causality.
GI Dissertationspreis 2011 — joint award by the German, Austrian and Swiss societies for computer science for the best computer science dissertation in 2011.

Press releases (in German): GI | Uni Lübeck
Staatlicher Universitätspreis — award for the best STEM dissertation in 2011, University of Lübeck, Germany.
Best paper awards at the international conference on artificial immune systems (ICARIS) in 2012 and 2009; best student paper award at ICARIS in 2007; nominated for best paper award at GECCO 2010 (genetics based machine learning track).