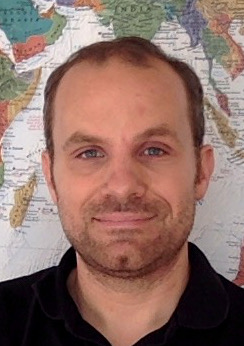 Associate Professor (Universitair Hoofddocent)
Institute for Computing and Information Sciences
Radboud University,
Nijmegen, The Netherlands

Radboud Institute for Molecular Life Sciences,
Tumor Immunology department,
Radboud University Medical Center,
Nijmegen, The Netherlands

ORCID profile | Google Scholar profile

contact | research | publications | software | dissertation | awards
Contact Information
My office is at:
Mercator building Second floor, room 17
Toernooiveld 212
6525 EC NIJMEGEN

RIMLS
278 Tumor Immunology
Geert Grooteplein 26-28
6525 GA Nijmegen
The Netherlands

mail: johannes.textor }at{ ru.nl
or: johannes.textor }at{ gmx.de
Research
I lead the Computational Immunology group at the Data Science section of the Institute for Computing and Information Sciences at Radboud University and the department of Tumor Immunology at the Radboud Institute for Molecular Life Sciences, Radboud University Medical Center (Radboudumc), Nijmegen, The Netherlands.
We use simulation models (like this one), machine learning, and causal inference methods (like DAGs) to study information processing in the adaptive immune sytem.
Our work has three main goals. First and foremost, we want to understand how the immune system perceives and interacts with "abnormal" information coming from pathogens or tumors. Such knowledge is useful to design immunological treatments such as vaccines or tumor immunotherapies.
Second, we are interested in designing immunologically inspired machine learning and information processing systems -- Artificial Immune Systems. We use these to understand more fundamentally how the immune system stores, retrieves and modifies information, and how this differs from the second major information-processing system in our bodies, the central nervous system. Ultimately, our goal is to understand why these two marvelously complex information-processing systems exist in our bodies, why they are so different in their architecture, and how they complement each other.
Finally, we happily collaborate with diverse and inspiring colleagues at the Tumor Immunology department and in other research groups around the world, and we try our best to help them in their research by helping to address computational questions and identifying appropriate statistical methodology.
Publications
Show: complete list | selected publications
Author order is highlighted where it is meaningful (e.g. it is not meaningful in theoretical computer science, but it is in computational biology). If two or more authors are highlighted, this means they contributed equally.
PhD Dissertation
My PhD thesis was carried out at the Institute of Theoretical Computer Science, University of Luebeck, Germany, under joint supervision of Rüdiger Reischuk (Theoretical Computer Science) and Jürgen Westermann (Immunology).
Johannes Textor:
Search and Learning in the Immune System: Models of Immune Surveillance and Negative Selection.
PhD Dissertation, University of Luebeck, 2011.


Download PDF
Software
Some software I wrote for my research is available for download. You can also visit my profile on github.
Awards & important grants
Dates listed refer to the year in which the award was given.
Program Grant (USD 1050K), Human Frontiers Science Program, 2020.
Vidi Grant (€ 800K), Netherlands Organization for Scientific Research, 2019.
Bas Mulder Award (€ 500K), Dutch Cancer Research Foundation, 2017.
IBM Best Student Paper Award 2014 for our paper (first author: Benito van der Zander) "Constructing Separators and Adjustment Sets in Ancestral Graphs" at UAI 2014.
Stephan Weiland Preis, young investigator's award by the German society for Epidemiology, 2012.
GI Dissertationspreis 2011, joint award by the German, Austrian and Swiss societies for computer science for the best computer science dissertation of the year, 2012.

Press releases (in German): GI | Uni Lübeck
Staatlicher Universitätspreis 2011, award for the best STEM dissertation, University of Lübeck, Germany, 2012.
Best paper awards at the international conference on artificial immune systems (ICARIS) in 2012 and 2009; best student paper award at ICARIS in 2007; nominated for best paper award at GECCO 2010 (genetics based machine learning track).